Lisa Naumu is a highly skilled Pickleball professional competitor. As a result, she possesses a high level of sportsmanship on and off the court. Lisa is also very respectful of the game, her students, opponents, officials, sponsors, and spectators. She professionally manages her equipment, promoting pickleball through her actions and words. Equally important, she regularly competes at a national level and achieves exceptional results.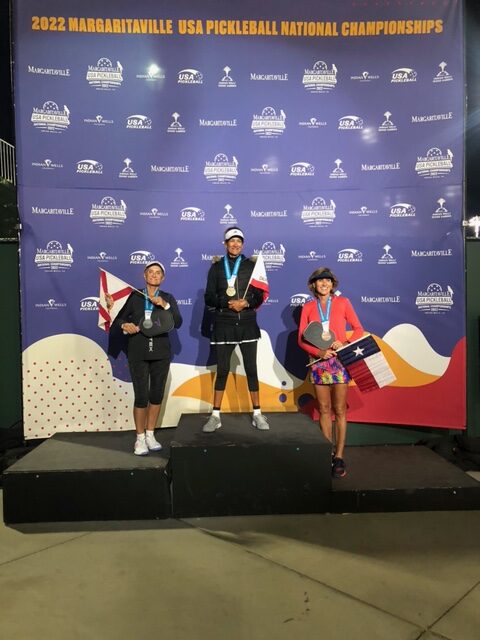 Nationals Triple Crown Winner 2022
Lisa won the Triple Crown at the Pickleball Nationals at Indian Wells by competing in the Mixed Doubles with Steve Cole in the 60+ 5.0, 50+ Women's 5.0 Doubles with Natalie Hill, and 60+ Women's Singles.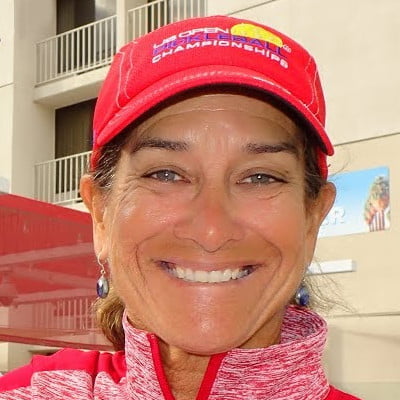 Lisa Naumu played tennis for 47 years before discovering pickleball. In fact, as a teenager, she played high school tennis. Then she went on to play college tennis for UC Santa Barbara and pro tennis on the WTA women's tennis circuit. All in all, Lisa's fondest highlights in pro tennis were;
Defeating Mary Pierce and Anne Grossman in a $25K tourney in Midland, MI
Competing in the Australian Open main draw women's doubles.
She currently has 26 National USTA titles including 3 Gold balls with her son, Miles. Lisa Naumu also played for a club in Germany a few summers and enjoyed traveling to Japan twice for soft tennis.
Tennis Experience
Started tennis at eight years old in La Jolla, CA (1970)
Played junior tennis in San Diego and Southern California.
High school tennis at La Jolla High (1976-1980)
College tennis at UC Santa Barbara, CA (1980-1984)
Played professional tennis on WTA women's tour. Ranked in women's doubles.
She has 26 USTA National titles in Singles, Doubles, and Mixed. Won 3 Gold balls with her son, Miles.
Her son, Miles recently graduated from UCSB and is currently playing the ITF Professional Men's tennis circuit.
Lisa Naumu switched to pickleball from tennis because her heart was no longer in the tennis game. Overall, Pickleball filled the void of conditioning, excitement, competition, and new friendships.
Lisa Naumu Pickleball Highlights
2017 USAPA National Championship, Casa Grande, AZ Nov. 4-11, 2017
In 2017 Lisa Naumu won a Gold Medal Award in the Senior Pro Open Women's Doubles 50+, Senior Open Mixed Doubles, age 55+, Senior Pro Open Women's Singles 50+ and a Silver Medal Award in the Senior Women's Doubles, age 50+.
2018 US Open Pickleball Championships, Naples, FL April 20-28, 2018
In 2018 Lisa Naumu won a Gold Medal Award in the Senior Women's Doubles, age 45+, Senior Mixed Doubles, age 55+, and the Senior Pro Mixed Doubles, 50+
Coaching
In addition to playing pickleball professionally, Lisa Naumu is a certified IPTPA professional pickleball coach.  This certification, like tennis, has three parts: oral teaching, skills test on the court, and a written online test. Lisa offers a variety of clinics and lessons to the public. Lisa's home base is in Indian Wells, California.
Sponsorship
Lisa Naumu presently holds a sponsorship contract with CRBN Pickleball, a US-based manufacturer of Pickleball Paddles and equipment.